After the church service, procession and wreath laying, a welcome drink and 'nibbles' were offered at the Marie, which as mentioned above has had a make over. There are now new steps and a ramp to the entrance and the large reception room on the first floor has nice new windows.
A lovely surprise for the Eastry guests was the gift of an early 'Hurricane' style lamp presumed to be a relic of the First World War. This generous gift from René Bilhaut will have a prominent position in our 'Twinning Cabinet' in Eastry village hall.
For the 'Combattants Anciens' of Longpré, Tom had brought a gift of 6 china plates with views of Eastry, donated by the Eastry branch of the RBL; they were presented at the reception and gratefully received.
The 'formal' part of the day was concluded and from the Marie a contingent from Longpré including those of us from Eastry, went to the neighbouring village of Hangest and the 'Restaurant du Canard' for a fabulous 7(?) course meal and dancing to the accomplished playing of 'Mr Accordion' (sorry, I don't know his name).
Yet again I miscalculated the departure time (allowing 1 hour 30 minutes to the tunnel, and the mandatory 30 minutes booking in time prior to departure, I'd booked the 19:20 shuttle but should have gone for one at ~20:00 or 21:30. I'm writing this as an aide memoire for next year)!
A very meaningful day was enjoyed by us all, and Tom Walden, the representative from the RBL, for whom it was his first trip to Longpré, and who did a sterling job as standard bearer, was more than impressed by the whole thing. As the 'new boy' he was quickly singled out for a few dances once the accordionist started. Copies of the photographs available on request!
Present from Eastry. Terry James, Nick Smith, Bill Clague, TomWalden Mike Potter, Jan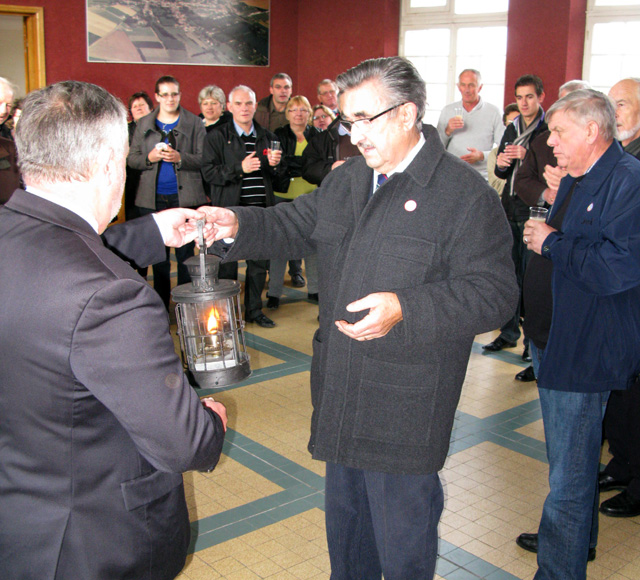 Left - René Bilhaut presents Terry with the early Hurricane lamp, an artefact he has had in his possession for many many years.