And so, our turn to host our friends from Longpré-les-Corps-Saints had come around. As is tradition, the French were met with a cold and wet Britain when they arrived at 9:30pm, and were forced to run through the rain to get to the Village Hall, which we'd festively decorated with flags.
Nick, the newly appointed chairman of Eastry Twinning Assoc, and Patricia, his French counterpart, gave speeches and presented each other with gifts to mark the occasion. In Nick's speech, he welcomed the French contingent, a few of whom were visiting Eastry for the first time, and made the now-obligatory, but strictly non-partisan, mention of Brexit that has become unavoidable.
Saturday
On Saturday morning we drove to Walmer for our visit to the castle. Meeting in the carpark, we were all treated to the sight of Robert Green chasing after his hat in the wind, only for him to slip in some mud and fall flat on his backside – to much applause!
Given the changeable weather, we decided to start with a tour of the grounds whilst the rain held off. The gardens were lush, with greenhouses filled with interesting plants, and it was lovely wandering around, especially when we got a glimpse of a young fox cub. And when it did start to rain, we explored the inside of the castle with the help of the free audio guides provided.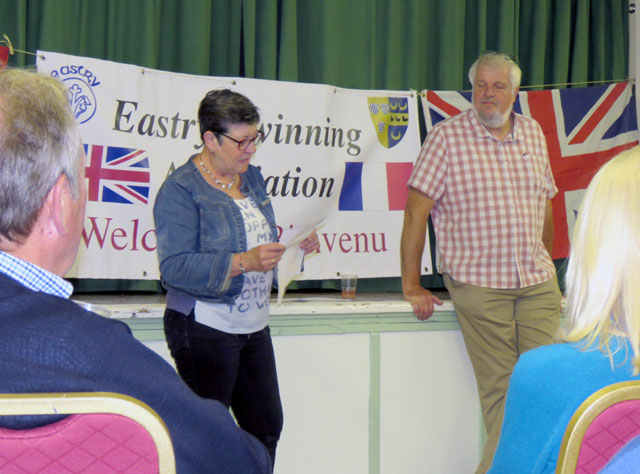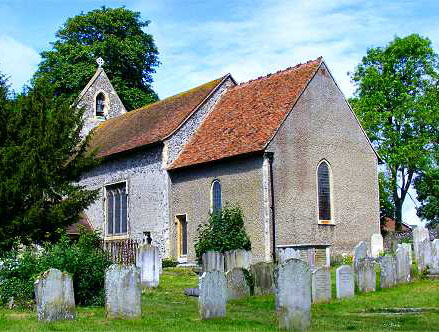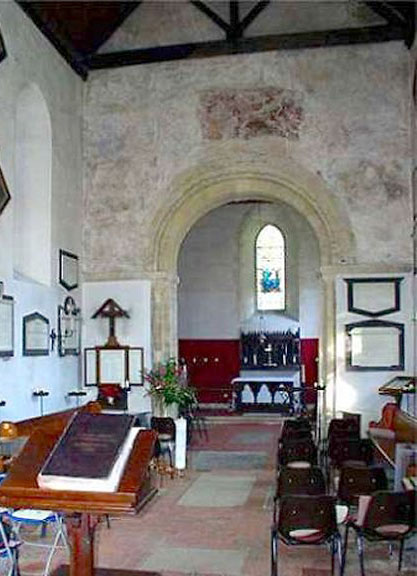 After everyone had taken in their fill of period furniture, we split up into groups to have lunch. Some braved the weather and had picnics, but most decided it would be safer to head to one of the many pubs in Deal. Before we all headed back to Eastry, we were given the opportunity to explore the neighbouring Blessed Mary of Walmer church, which was built back in 1120 and now rarely open to the public.
That afternoon we all gathered at Val at Paul's house for a few drinks and canapés before the meal. It was great to get everyone together and have the chance to catch up on everyone's day, so thank you very much Val and Paul for your hospitality! I hope we didn't drink you out of house and home.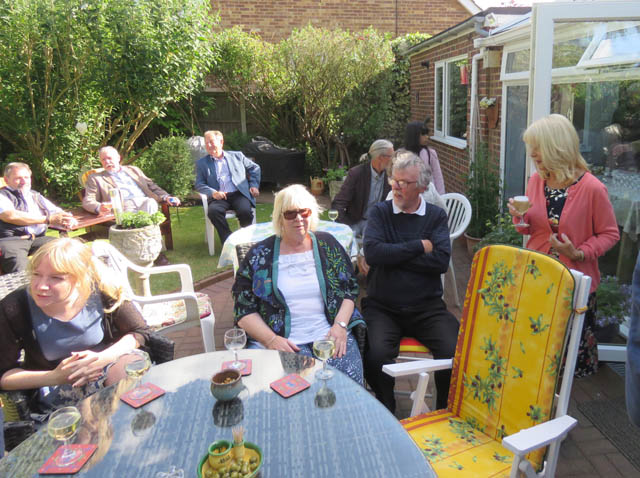 Pre dinner drinks at Val and Pauls house
The meal that evening was at Royal St George's Golf Club, which we travelled to by coach. The weather had improved and we were able to watch a lovely sunset over the coast from the balcony. At the golf club we enjoyed a lovely three course carvery meal (served in record time!), followed by music and dancing until midnight.
Sunday
After a busy Saturday, we had a slightly more relaxed day on the Sunday. The traditional pétanque game took place in the morning, and despite Longpré's secret weapon of first-time players Manon and Clément, Eastry was victorious.
After the match, various people hosted lunches across the village. Our group went over to Ray and Carol's and enjoyed a great spread in the sunshine, complete with lots of Pimms and rosé.
And so, another wonderful Twinning weekend came to an end. We all met up outside the fire station for another photo, and to wave goodbye to Longpré-les-Corps-Saints for another year. We look forward to seeing everyone again next time!