Bastille Dinner Saturday 18th July
The committee decided to hold a Bastille dinner, various plans were discussed and eventually we booked the village hall for the Saturday 18th of July rather than the 14th as there wouldn't be enough time to organise everything on a weekday evening. Once the date had been fixed, ideas were discussed for the menu and format for the evening. Unfortunately chairman Terry's plans for fireworks were scuppered on grounds of cost but these might feature in future if we repeat the evening!
Christine Green offered to take the helm in terms of organising the menu and was quickly handed it by a grateful committee. There was some scepticism (not least from me) that we could pull off a four course meal for up to 40 people (a figure we agreed to aim for but thought unlikely to reach. We actually ended up with 48 people!), but as most of the people likely to go were from our own membership, we knew they would be understanding if it didn't go strictly to plan. Terry sent an invitation to our French twinners and we were delighted when we received an e-mail confirming that 9 Longiprats would join us on the evening - delighted then apprehensive, it was one thing holding an event like this for ourselves, no-one in the group having any experience of a Bastille dinner, but to host our friends from Longpré for a 'French' evening meant we would have to try very hard to get it right.
I have no idea if we got it right in terms of replicating a French Bastille dinner, probably not, but in terms of having a superb meal and thoroughly enjoyable evening, it was excellent.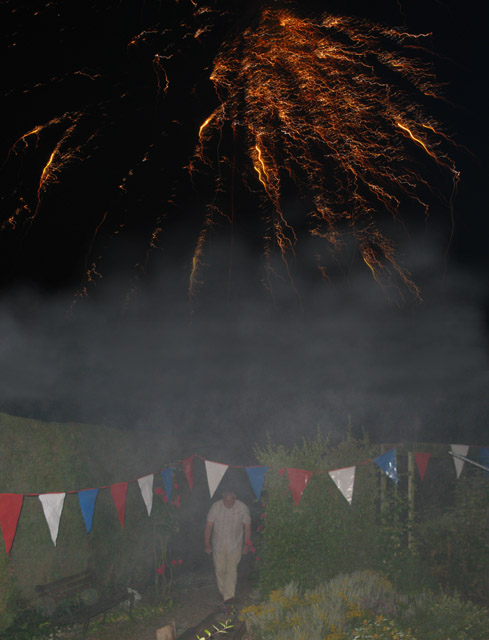 Everyone involved joined in to make it run very smoothly, but I do have to give special thanks to Christine who calculated the quantities of everything required for the meal, sourced and ordered most of the ingredients from local suppliers, costed it out and then apparently cooked a replica meal for her family to check it worked. She also organised a task list for the rest of us so that we all knew what we had to do and what to bring along - it worked like clockwork on the evening. It sounds dictatorial but it wasn't at all, it was just well organised, and everyone mucked in and got the jobs done.
The hall and tables were trimmed up, the cooks were busy in the kitchen and then the contingent from Longpré arrived- dressed in French revolutionary costumes, they had arrived at Dover early, spent the afternoon shopping in Canterbury and then visited the 5 Bells for a drink and to change into their costumes. They really looked the part (unfortunately I was too slow to get a group photo as they arrived so if anyone got a decent picture of them, please send it to me webmaster@eastrytwinning.co.uk ).We had the meal - see menu below - followed by a rendition of the two National Anthems performed by Jeannette on the saxophone and finally a quiz devised by Terry involving guillotine rounds and to the amusement of many a 'melange' round. We'd had the foresight to book the village hall for an hour the following morning which meant we didn't have to finish early to tidy up, but the trusted band of helpers descended at 08:00 the following morning to clean the hall.
It was a brilliant evening and I for one look forward to next year.

Tables decorated for the meal

Manon in costume

The French Revolutionaries

Bill and Hazel await their main course!

The Felderland Lane contingent

Alan can't beleive he's not got his dinner!

The diners tuck in

Still waiting!

Jeannette and sax

View from the stage

Jean-Marc and Patricia
Mixed Hors D'Oeuvres
A selection of :-
(French bean salad. Butter bean humous. Tomato and red onion salad.
Egg mayonnaise. Melon and saucisson mini brochette.)
Main course
Coq au vin, courgettes provençal, carrots and new potatoes
Dessert
Meringue 'Pari'
Selection of cheeses
Coffee
Complimentary red and white wines
£10 pp